There's nothing wrong with designer labels, but, thanks to a few useful tips, you can look great and keep your wallet full. Fashion secrets designer labels don't want you to know will help you easily achieve the look you want.
The truth is, we all want to look our best, and we tend to associate looking great with expensive designer clothes we often see on TV and in magazines. Having such clothes in our wardrobe requires a big budget though.
Shouldn't we remind ourselves that we can look amazing even without designer labels and on a tight budget?
Whether your wardrobe is full of designer labels or you have a couple of special pieces of designer clothes, you could definitely use a few tips on how to save money and look great at the same time. Keep reading to find out all about them.
1. Fashion trends are suggestions, not rules, but there are fashion rules
You don't need to follow fashion to have style. Don't forget that you're the one who holds the wallet, and fashion is there to serve you, not the other way around.
Staying true to yourself and discovering your personal style should be more important than following the latest trend.
Always try to pick clothes that are flattering regardless of whether they're trendy or not.
There is a difference between fashion trends and fashion rules though. We all know of some timeless classics and ultimate no-no's when it comes to fashion.
Having a unique personal style is great, but you don't have to break the fashion rules to have one. There are clothes that truly stand the test of time, and picking such pieces is never a bad idea.
Make sure to have the little black dress, white T-shirt and ripped jeans in your wardrobe!
A basic trend-resistant scarf or pencil skirt is easily paired with other essential parts of your outfit which brings us to the next fashion secret.
2. Outfits include four items or more and make sure to accessorize
When you think about a skirt and a blouse, those are just clothes but what makes them an outfit? How about adding a necklace and a jacket?
One of the fashion secrets designer labels don't want you to know is that your outfit is not complete when you buy a designer dress. Most often there is something to add to complete the look, and accessories complete most of them.
To get that designer looks you're aiming for, add a set of beautiful earrings to your little black dress. Go for a classy look with elegant pearl earrings that look expensive and avoid cheap-looking accessories.
If you're going for something more casual, don't settle for a t-shirt and jeans. Choose a blazer and a hat to go with it.
Don't forget that sunglasses can really complete a look and give it that celebrity style designer labels often present.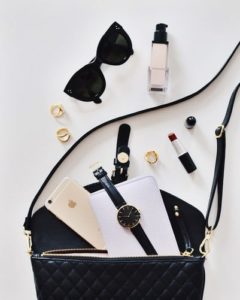 3. Choose natural fabrics and only the clothes that fit you
Natural fabrics look more expensive, feel better and last longer. You need the fabric that feels nice and moves with your body which will give you the look you're going for.
Even if the piece of clothing you bought isn't a designer piece, if it's made of natural fabrics it will look more expensive.
Natural fabrics are less important than choosing the clothes that actually fit you though. You must try stuff on whenever you aren't sure that you can pull them off.
Don't even think about buying something you can't actually wear even if you think that it will motivate you to get in shape. I know I have my share of skinny jeans that I'm never going to wear, and skinny jeans are definitely not for everyone.
Pick the clothes that fit your body style, and rest assured that everyone can have that expensive look with the right clothes. It's one of the fashion secrets designer labels don't want you to know.
4. Buy a few designer pieces and combine them with other clothes
High-end style can seem unaffordable to many people, but it doesn't have to be. There are parts of your outfit that you simply must have, and there are classics that always work.
How about a cool designer bag that goes with everything and a classic leather jacket? You'll be able to wear these items for years, and they'll never go out of style.
Genuine leather is a high-quality material and, even though it's expensive, it will add what you needed to your wardrobe. Combine these two expensive items with other clothes, even if it's sale-rack stuff, and you'll pull off the look you're aiming for.
When picking up a few designer pieces choose the clothes that make you look attractive but are still work-appropriate so that you can wear them for any occasion.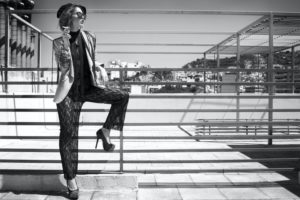 5. Don't believe everything you see on runways or on Instagram
Social media has pretty much taken over our lives, and it can make us feel self-conscious. If you feel bad about yourself when you see insanely well-dressed people on Instagram – don't.
Most of them usually wear sweatshirts and sweatpants like everyone else, they just pose for pictures that are edited later.
Runways are also not where you should look for ideas on what to wear. They often show only one body type and most often don't show clothes that people actually wear in their everyday lives.
You need to create your own outfit from parts of it because head-to-toe trends look good only on runway models. Also, what's trendy one season turns from a must-have to a must-never in a matter of a, well, a fashion season.
6. Highlight your favorite arias, have great make-up, and radiate confidence
Instead of hiding the ones that you don't like, highlight your favorite arias. Trying to hide behind clothes can give you a bad look that doesn't radiate confidence, and confidence is a huge part of a good outfit.
The same goes for make-up because it can make the outfit look better or worse.
These fashion secrets designer labels don't want you to know can help you have the high-end style they offer, so dress up, go out there and shine!