Home elevators are an excellent addition to add a luxurious touch to a property. They are a convenient choice for ensuring the comfort of people living in multi-story property. The home elevator plays a significant role in simplifying life and saving people the trouble of climbing stairs all the time.
Home lift elevator is more space-efficient compared to stairwells. It helps enhance the value of the property and makes it easier to limit access to relevant people.
Installing a home lift is not a small decision. It must fit in with the structure of the building so that it adds value to the property instead of just being a prop. One of the key aspects to consider while deciding on adding a home elevator or not is to consider the cost.
Cost Of Home Lift Elevators
The cost of installing a home elevator differs because of the availability of different types of elevators equipped with a variety of mechanisms.
Here is a guide on factors affecting the cost of home elevators.
Cost For Different Home Elevators Types
The type of elevator is a major aspect component in determining the cost of the home elevator installation. Some common types of home elevators and their estimated cost is discussed below.
Chain-Driven Elevators
These elevators are driven by a chain that is wound around a drum. It is a durable choice and needs less maintenance than other types, and does not require replacing for a long time.
Chain-driven lifts do not need a machine room, so they save up a lot of space. But including it in the building design during first construction is the most cost-effective option.
The cost of adding chain-driven elevators to the new construction is $20,000 to $50,000.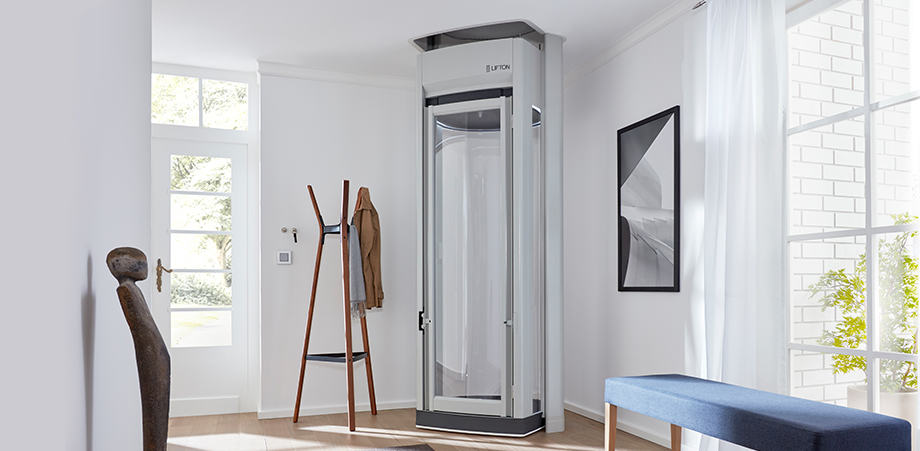 Cable-Driven Elevators
A chain-driven elevator as suggested by the name is powered by a cable that is wound around the drum. These elevators are commonly used in all types of buildings. They can be built with glass or metal shafts.
Cable-driven elevators are available in a variety of styles ranging in space requirements and complexity. They need a machine room and a pit, so their footprint is slightly bigger than chain-driven lifts.
The cost of cable-driven elevators can vary with style. They generally cost between $20,000 and $35,000.
Pneumatic Elevator
Pneumatic home lifts are equipped with vacuum systems. It is hard to hide them within the design of the property which is not a bad thing as its futuristic design adds to the look of the property. It does not need a machine room or pit, so they are easy to retrofit.
The cost of retrofitting and new construction is the same, and it ranges from $35,000 to $50,000.
Hydraulic Home Lift
Hydraulic lifts work because of the movement of the piston within a cylinder. The cylinder is connected to a system that pumps fluid, mostly oil, to control the movement of the elevator. These elevators do not need a separate machine room as the power system is entirely within the shaft of the elevator.
They are easy to retrofit. They require a pit, and the cost of digging it depends on the structure of the property. Installing a hydraulic elevator in new construction can cost about $20,000 to $50,000.
Retrofit And New Construction: Cost Difference
The best approach is to build a property to accommodate the home elevator. Adding it to the home plan offers greater options, making it easier to fit an elevator seamlessly into a house.
Integrating cable-driven elevators in new construction is a cost-effective option.
Retrofitting an elevator shaft is costly as it requires a lot of construction like excavating concrete and demolishing walls. The cost of retrofitting an elevator shaft can be in the range of $45,000-$80,000, which is pretty high compared to new construction.
If you are retrofitting a house and looking for a cost-effective option then pneumatic, electric, and hydraulic elevator area better choice compared to cable-driven or chain-driven elevators. Retrofitting these elevators into a built home costs just between $15,000-$35,000.
Size Of The Home
Standard home elevators are made for double-story homes. For properties with more than three to four stories need elevators with additional stops. Some elevators are designed for two stops, and elevators that can add additional stops cost more, as about $10,000 is charged for every additional stop.
Conclusion
Home lift elevators seem like a luxurious and expensive addition to a house, but surprisingly they are convenient and more affordable than the general perception. You must consult a specialist to estimate the accurate cost of adding an elevator to your house. You can share your budget and home design with them, and they will let you know which type is best suited for you.