Struggling to create attention-grabbing visual content for your social media? Well, doing some creative photo editing can be a superb way to get more out of your photos.  Here are the 3 best photo editing apps that can help you transform an average photo into a captivating one whether you're using an iOS or Android device
1. Snapseed by Google
Download Snapseed for iOS or  Android 
Our top pick for the best photo editing app for android and iOS is the Snapseed by Google that boasts a vast array of features for the most advanced edits of your photos.
First off, Snapseed features an intuitive interface with a whole host of photo editing tools, allowing you to choose edits, effects, and adjustments with simple swiping gestures.
Snapseed app stands out from the rest of the photo editing apps for its advanced editing options including a mask and healing brush, perspective crops, curves, HDR effects, and local adjustments. Using precision masking, you can edit the depth of field allowing you to blur the background and bring more focus to the foreground.
With Snapseed, you can edit photo effects and filters precisely, giving you more control to get the result you want. Another cool feature of this photo editing app is the double exposure, which allows you to easily blend two photos with just a few clicks.
Grunge is undoubtedly one of the most impressive tools in this app, providing up to 1500 settings with each giving varying degrees of color emphasis or fading. It also offers a wide selection of frames, which lets you give your edited photo a mounted appearance.
What's more? This image editing app allows you to save your favorite edits and apply them on your other photos. This lets you make mundane photos magnificent instantly, saving you time. Once done editing a photo, you can easily export, share, and even save the edited photo separately from the original photo.
Snapseed app is available for free and can be downloaded from the Apple App Store and Google Play Store for your Android or iOS smartphone or tablet. This makes it easy for you to access it no matter the operating system your device is running on.
Pros
Let's you easily visualize the edits
It's entirely free
Offers many powerful photo-correction tools and enhancing effects
Supports localized adjustments
Cons
Gesture-based tools can be a bit challenging to use for beginners
2 Lightroom by Adobe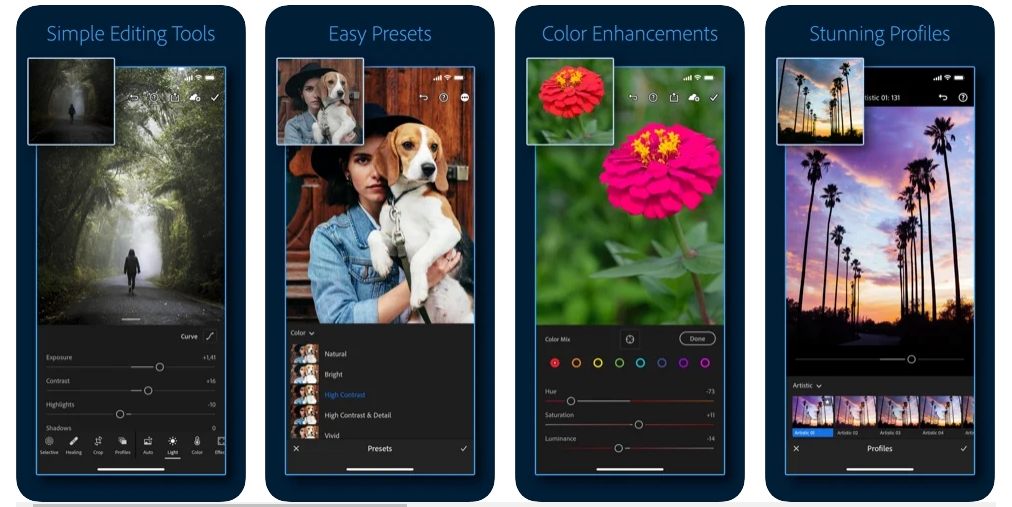 Download Lightroom for iOS or  Android 
Available for Android and iOS devices, Lightroom allows capturing, editing, and organizing of different types of images, making it one of the best editing apps for professional photographers.
One of the highlight features of Adobe's Lightroom is the built-in camera, which allows you to take high-quality photos at different aspect ratios. Lightroom's camera app works in both professional and automatic modes. You can easily adjust the various settings such as exposure, focus, and white balance.
What's especially impressive about this app is the cloud synchronization feature, which allows you to store your edits and files in the cloud. This way, you can conveniently access all your images from any device for edits and keep them up-to-date always.
Another outstanding thing about the Lightroom photo editor is that it allows you to edit RAW images. This means you can capture RAW-quality photos and start editing them directly in the app without having to open another application.
Lightroom mobile app is free and is available for download in Apple App Store and Google Play Store. While the app is free to use, you may need to purchase a monthly subscription to use advanced editing tools and features such as the healing brush, selective adjustments, geometry, and auto-upright function.
Pros
Lots of useful presets
Allows simultaneous color correction and management of numerous photos
Supports cloud syncing across devices
Supports virtually all RAW formats
Cons
Limited features on the free version
3. VSCO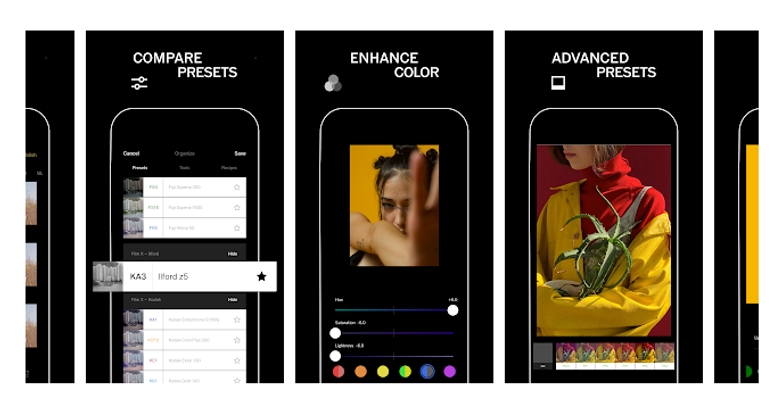 Download VSCO for iOS or  Android 
Last on our list is the VSCO, which not only offers cutting-edge editing tools but also a built-in camera app and a dedicated community of photographers to show off your latest work.
With VSCO, you can take photos via the built-in camera app and adjust exposure and focus, select interface color, toggle between three flash modes, and enable gridlines. It also boasts a set of stunning filters, which make your photos appear more like film. Unlike Instagram's heavily filtered presets, this photo editor offers you soft and subtle filters that give your photos a touch of professionalism.
For in-depth editing of your photos, VSCO offers you manual adjustment tools such as crop, sharpen, exposure, straighten, clarity, saturation, contrast, and shadow save. The app also features a photo-sharing platform through which you can easily share your edited photos on various social platforms and even on WhatsApp and SMS. You also get access to a dedicated community of photographers and artists with who you can share your work.
What's more? VSCO photo editor app is ideal for professionals and novices alike. The app can be downloaded for free in Google Play and Apple App Store. While the app is free to download and use, you'll need a membership subscription to get over 130 filters and more advanced tools.
Pros
The simple and intuitive interface makes it easy to use
Great editing tools for color and exposure
Access to a community of photographers
Cons
Requires a subscription to get all filters
Conclusion
As you've seen from our review, there are many superb apps out there that can take your mobile photography and editing game to the next level. These apps offer a host of photo editing tools and features, allowing you to effortlessly make mundane photos captivating on the go. And if you're looking for the best apps to edit photos on your Android or iOS device, you can't go wrong with any of our selections.